Challenging The Myth About Modular
When speaking about modular builds, there is a common misconception, we aim to challenge the myth. "Prefab", "log cabin" "Porta Cabin" are all mentioned under the same modular title. The Pod Factory are not your run of the mill modular company, here we tell you why.
Here we discuss some elements the Pod build, to promote a better understanding so you, our followers, are better informed.
NSAI Agrément certificate.
The frame of each and every Pod from The Pod Factory is made of a light gauge steel, coming to our factory as a coil, it then gets formed into shape with the use of Scottsdale precision technology provided by our sister company, Metal Frame Construction. Metal Frame Construction hold an NSAI agrément certificate for the steel frames they provide. This certificate ensures a minimum life span of 60 years – Similar to any conventional house. But this house will not warp, rot or twist. The strength of our steel challenges the common problems associated with wooden framing.
Multiple layers of insulation
Expanded Polystyrene (EPS) will last the lifetime of any building it's installed into. It is extremely durable and the performance will not degrade over time – meaning the U value you first achieve with the EPS will not degrade.  Along with EPS, The Pod Factory also install Earthwool as a second layer of insulation. Unlike other types of insulation, Earthwool contains no added formaldehyde and is made from recycled materials. Earthwool has a high thermal performance and is non-combustible.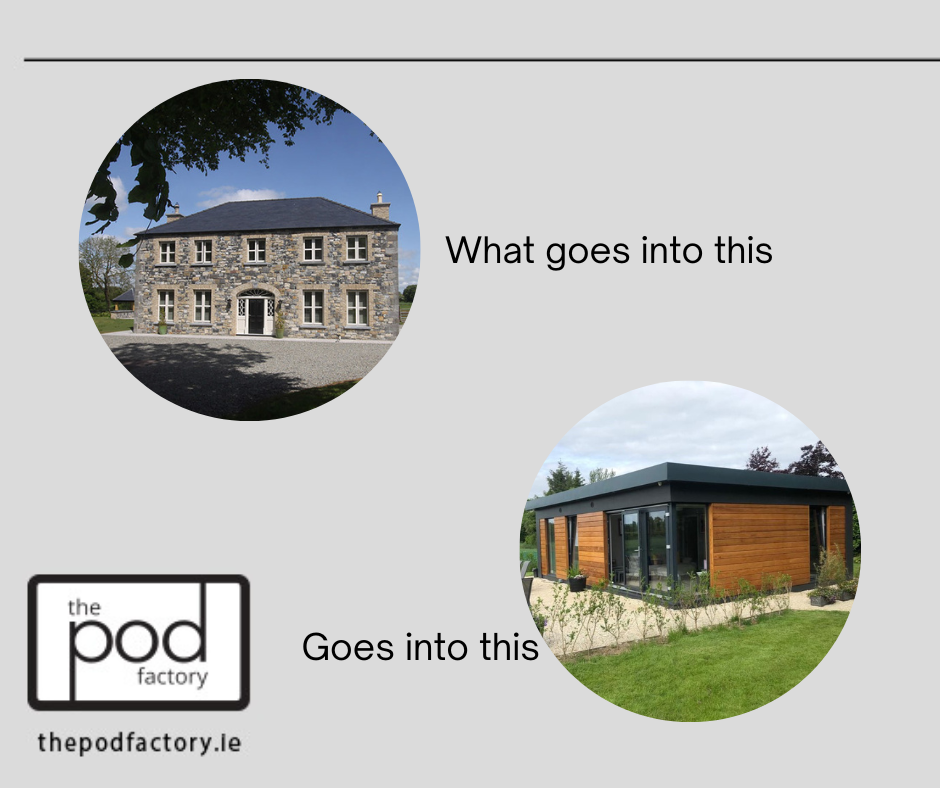 Airtightness Membrane
The airtightness membrane is fitted to the Pods to keep the Pod from letting in any draughts and letting out any heat. All while allowing water vapour to escape in a controlled way, helping the Pod to "breathe".
Rodent Proof Floor
Not to be undervalued, this addition is our barrier to uninvited wildlife. The last thing any home needs is a mouse problem! Some conventional builds allow rodents to chew through the floor and gain access to the property which can cause untold damage to your wires, leave messes and be a general nuisance. The Pod Factory equips each Pod with a Rodent Proof floor – keeping the space throughout the Pod, mouse free
Double Glazed Windows and Doors
One of the many bespoke features on our Pods are double glazed windows and doors supplied to us by AMS. You will have a choice of:
· Sliding door
· Sliding door with corner window
· 3m bi fold door
· Tilt and turn Windows
· Bunker windows
· Conventional floor to ceiling windows
Double glazing and airtight windows trap the heat indoors and keep draughts at bay. The optional addition of a Demand Control Ventilation System, controls condensation, ventilates the building and eliminates odours.
See For Yourself
Each of the aspects mentioned above are standard in each one of our Pods and commonplace in conventional multi storey homes.
This is just a snippet of what The Pod Factory can offer in comparison to a conventional build. Further information can be found on the website or by completing the form on our contact page. Why not follow us on social media or give us a call on 0469026911, our friendly office team are available to take your call.
Make sure to sign up to our newsletter to be kept up to date with what goes on in the factory, more news and updates on deliveries around the country.