Purchasing a modular home is a great option for a variety of reasons. Check out some of the main advantages below:
1. Affordability
Are you a first-time buyer looking to get on the property ladder? If so, you know that the main challenge you face is the rising property prices in Ireland. In recent years, Modular Homes have become increasingly popular as a more affordable and sustainable option. While the average price of a house in Ireland has increased to nearly €300,000, a modular home can cost you a fraction of the price without compromising on functionality or style.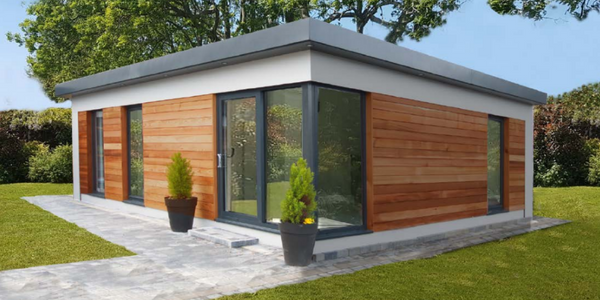 2. Increased Customisation
By purchasing one of our bespoke modular homes, you can create a space that is aesthetically pleasing, highly functional, and most importantly, tailored to your exact needs. Our expert team will work alongside you to bring your vision to life, resulting in a truly unique space that you can live in for years to come. With a range of customisable options, from floor plans and fixtures to finishes and materials, you can create the home of your dreams.
3. Quality
The factory setting allows the entire building process to be tightly controlled. Before leaving the factory, all elements of the home are rigorously tested to ensure that the highest standards of quality are not just being met but exceeded.
Our team uses a variety of quality materials throughout the building prices which ensures that the home is built to last and can withstand the elements. Our modular homes are built using steel frames, supplied by our sister company Metal Frame Construction – which has several accreditations including from the NSAI and UKAS. You can read more about the light gauge steel frames here.
4. Reduced Construction Times
Once the building process has begun, our modular homes can be ready to be delivered to your site in less than 10 weeks.
The factory setting allows any inefficient on-site construction methods to be eliminated and also ensures that the projects are not delayed by adverse weather conditions. This means that you can move into your new home as quickly as possible without any unforeseen delays.
5. Quick Installation Times
Once the modular home has been delivered to your site, our expert team requires just a few hours to complete the installation. This is done as efficiently as possible with minimal disruption to your site until delivery day.
6. Energy Efficiency
Modular homes are designed to be energy efficient, with the materials used and construction techniques employed allowing for a more sustainable way of building. As well as having a lower environmental impact, the double-glazed windows and insulation also allow you to reduce your energy bills, saving you money in the future.
Thanks to their innovative design and construction methods, modular homes are quickly gaining popularity as the preferred choice for homeowners in Ireland who want to build a modern and affordable home without compromising on quality or style.
Get in touch to become a modular homeowner today.
See what our customers have to say